At Revevol, we've been developing both our own and customer applications on Google Cloud Platform (GCP) since 2012. We now have hundreds of apps running on the platform. One of our customers, a multinational company with over 35,000 employees, has been using G Suite as its office productivity and email platform since 2012. They have a complex organizational structure, so understanding their employees' usage of G Suite and ensuring widespread adoption has proven quite difficult.

Questions like, "How is G Suite being used in my organization?" "Where are people struggling?" "How do we improve?", were nearly impossible to answer. That's why the company asked Revevol, its trusted G Suite partner, to build a solution that would provide a comprehensive and detailed picture of G Suite usage among its users.

Naturally, Revevol turned to GCP to develop a solution with three main objectives:
Drive G Suite in the organization: Measure activity and trends; and manage abandoned accounts and shared documents.
Boost individual and team productivity: Create usage benchmarks across sites, business units, and countries; launch targeted change management initiatives; increase G suite adoption; and spread best practices internally.
Support the business: Spot informal employee networks; identify high-performing collaborative teams; and detect collaboration bottlenecks.
Technical Architecture

In order to achieve these goals, easy-to-use and interactive dashboards had to be built. Because the company's 35,000 employees generate so much data, the ability to scale the application is one of the main challenges. That's why GCP managed services was the natural choice from the get-go. The solution Revevol built on GCP has three main components:
Data extraction module: Our App Engine application runs regularly, polls the API, and publishes data into Cloud Pub/Sub. A Cloud Dataflow job is subscribed to Pub/Sub and processes the data as soon as it is extracted.
Transformation and storage module: Everything is stored in Cloud Storage for backup and archive purposes, and in BigQuery for analysis. Cloud Dataflow is the perfect service to transform and enrich the data to prepare it for queries in BigQuery.
Data visualization module: Data Studio fetches the data directly from BigQuery. We built a nice, dynamic experience with Data Studio for our users. It enabled us to quickly build pre-filtered charts and dashboards without having to develop our own chart visualization system.


Why was Google Cloud Platform the perfect choice?

Most importantly, GCP matched each and every requirement we had for this solution, from ingestion to data visualization, with a service. It provides a comprehensive set of services that easily communicate together. In some cases, it is even possible to build a complete data pipeline from ingestion to visualization without writing a single line of code.

As mentioned before, one of the main challenges for this solution was its scalability, as it has to ingest more than 100GB of data daily. BigQuery and Cloud Dataflow are the perfect technologies to handle this demand, as they provide a serverless service that scales automatically and doesn't require us to spend time on infrastructure tasks (like many GCP services). This allows us to focus on data, where our real added-value lies.

We want to focus more on data processing and less on integrations. GCP allowed us to write code only when we wanted to add business value to how we process data. Less infrastructure-purposes code, more insights. For example, ingesting streams of data extracted by App Engine and delivering them to Cloud Dataflow for processing was made easy thanks to Cloud Pub/Sub. BigQuery's SQL enables us to easily fetch the data we need to create new charts and dashboards. Its tight integration with Data Studio makes the data available without writing code.

On the frontend side, Data Studio provides a free and easy way to create a complex dashboard. It's WYSIWYG configuration allows quick iterations during the development phase to meet evolving customer requirements.

From a deployment perspective, Cloud Deployment Manager allows us to provide an agile approach to development, quickly building environments and applying updates and fixes without disrupting main operations.

Moreover, Google Cloud Platform managed services helped us to reduce infrastructure and maintenance costs thanks to their low-ops philosophy and abilities to scale up and down. Its granular pricing model ensures that our customers will only pay for what they are really using.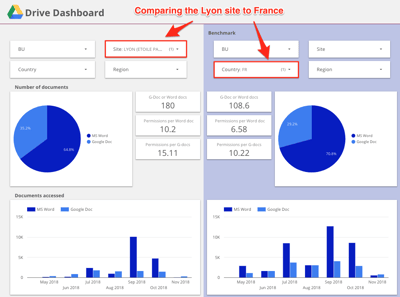 What we achieved

Thanks to GCP, Revevol built a powerful tool to analyze and optimize G Suite collaboration for this major company. Our solution is now in high demand among our growing customer base. The results so far have been impressive:
Granular insights on G Suite usage within the company
G Suite dashboards automatically updated without any manual action
Huge cost and resource savings by leveraging GCP managed services
Teams focus on analyzing data, not extracting it
Awesome user experience
Low-maintenance solution
Data retention for as long as needed
Ready to take G Suite to the next level? Contact a Revevol expert today or learn more about why GCP is our go-to solution for enterprise application development.