For avid users, you may already have heard whispers about the new Workplace by Facebook features announced at the company's first annual global leadership summit in Menlo Park, California. Earlier this month, amid the inspirational talks and workshops led by C-level leaders and industry professionals, Workplace took the opportunity to announce important updates to the collaboration platform.

As partner, user and proponent of Workplace since its debut in 2016, here at Revevol we look forward to testing how these features can further empower employees to work together to get more done.
1. Safety check for Workplace

Helping work communities better prepare for crises.

Since its launch in 2014, millions of Facebook users have used Safety Check, the feature that allows people to quickly and easily inform friends and family that they are safe during a crisis. This same feature will be rolled out for Workplace, as an efficient way for organizations to locate and help team members in a crisis.

The feature, available early 2019, allows organizations to identify and notify those who may be affected during a possible crisis, and monitor employee responses.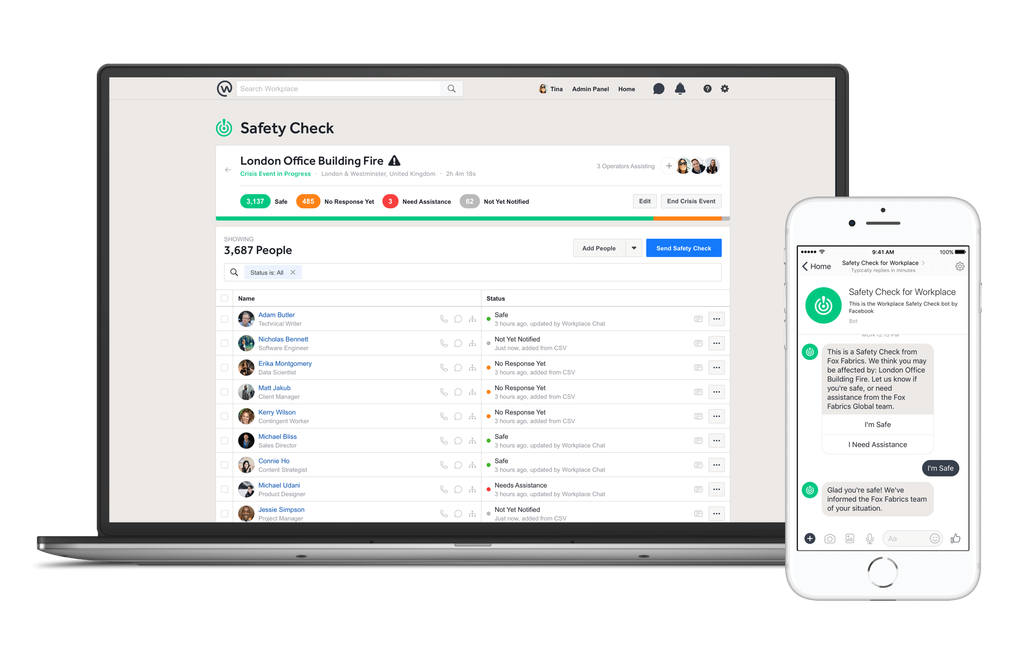 Image via Workplace by Facebook
How does it work?
Company leaders will be able to activate Safety Check through their Workplace administrator and send notifications to their work community in the event of a crisis to confirm who is safe and who needs help. Facebook has outlined the three steps to the process:
Locate: Workplace has built multiple ways for companies to import the data of employees they may want to reach, including membership of Workplace groups, location information contained in Workplace's own Org Tool, or traditional spreadsheet with a list of names.
Notify:

Data shows that the most effective way to reach people is via

Chat Bot

. If your organization does not yet have that functionality for Workplace,

find out what's possible

. Otherwise, Workplace has provided options including Workplace Chat notifications and automatic messages which will be available on both desktop and mobile.

Iterate:

Workplace has built a real-time dashboard of employee statuses showing the history of attempts to contact someone, in the event that they do not respond right away.

Can't wait until 2019? Request early access here.

2. Do not disturb
Let colleagues know when you're not available.

We are all guilty of spending too much time on our phones or desktops, often using social networks as a pretext for procrastination. How can we be sure that Workplace won't recreate this same facile distraction?

Starting today, activate your Do Not Disturb status in Workplace and Workplace Chat by simply turning off notifications on mobile and desktop to focus on tasks without interruption.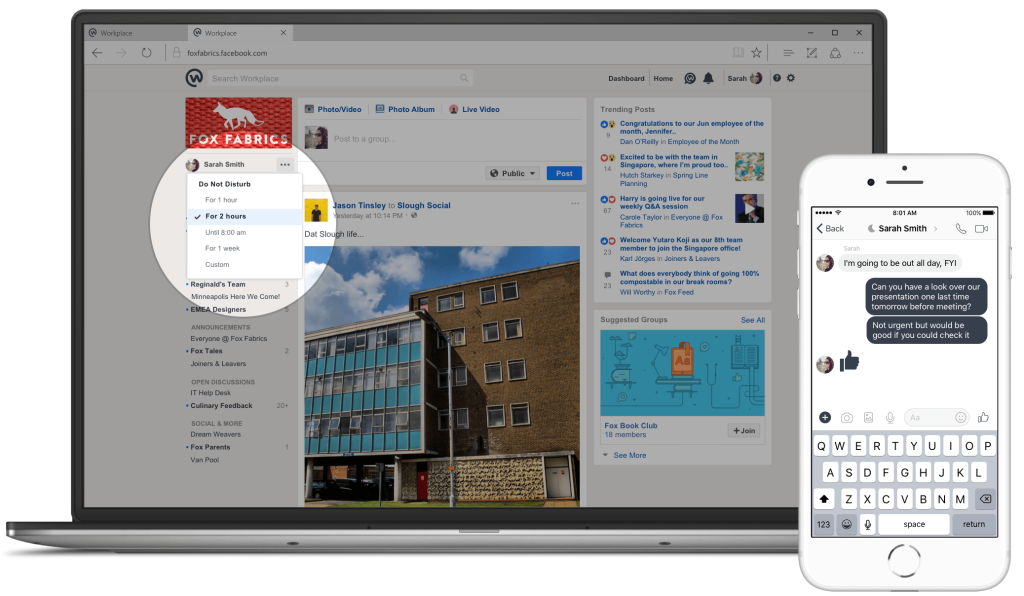 Image via Workplace by Facebook
3. Mark as Important
Make sure high-signal posts reach their intended audience.

In large and growing companies, effectively sharing important updates and announcements internally can be a challenge. For Workplace users following several groups and people, it can be difficult to keep track of and filter information.

The Mark as Important feature rolling out over the next few weeks should bring some relief to your newsfeed. Much like Gmail allows us to mark and identify which emails are most important to treat, now you can prioritize information on Workplace and keep track of important messages.

Posts marked as important will show up at the top of the News Feed for every member of the group. Workplace will send out email and push notifications and deliver a simple report to show the post's engagement metrics.
4. Multi-company chat
Connect with people outside your organization.

Many of you may be familiar with Workplace's multi-company groups feature which allows for communication and collaboration between partners, vendors, suppliers, or agencies external to the company.

Workplace is enhancing this feature with Workplace Chat, which allows for people who are in the same multi-company group to send messages or hold video calls across different organizations.
5. Pinned threads

With instant messaging becoming the preferred method of communication in the modern workplace, we may increasingly feel overwhelmed by the abundance of messages we receive from a number of different groups and team members. Similar to the Mark as Important feature, this improvement allows you to quickly filter and surface your most important conversations.

Starting today you can pin up to fifteen threads, which will appear as a list at the top of Workplace Chat.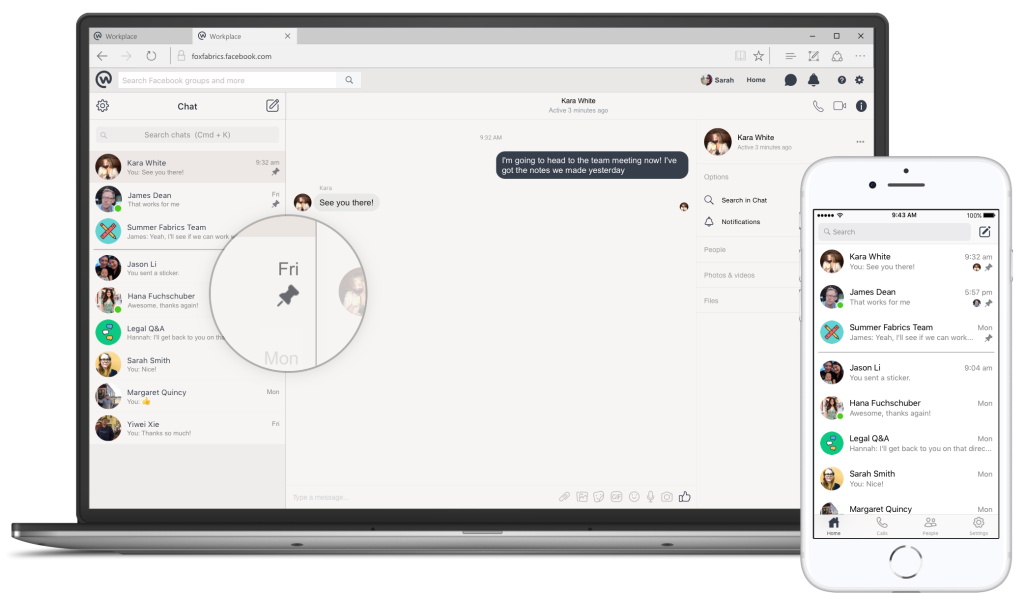 Image via Workplace by Facebook
6. Replies

What do you do if you want to comment on a previous point in a message but the rest of the thread has already moved on?

The new Replies feature will reduce that confusion by allowing people to reply to specific messages, showing exactly to which part of the message they are replying.
Want to take things a step further?

If you haven't yet adopted Workplace by Facebook as your enterprise communication and collaboration tool of choice, there's only one thing left to do.

If like us, your employees are spending more and more time communicating on Workplace and exchanging on important topics, you may want to take things a step further. With Harbor for Workplace, you can identify trending topics and use collective intelligence to leverage key messages, improve communication, and ultimately make the most of your Workplace investment.