Revevol has officially received the Google Cloud Platform Partner Specialization in Application Development. This certification is a testament to Revevol's expertise and success in building and managing powerful business applications with Google Cloud Platform.
The certification adds to Revevol's diverse portfolio in areas of expertise such as Cloud Migration, Enterprise Collaboration, deployment, and much more. This is proof not only of Revevol's technical expertise and capacity to build powerful business applications, but also of our ability to provide in-depth support and collaborate closely with a range of customers.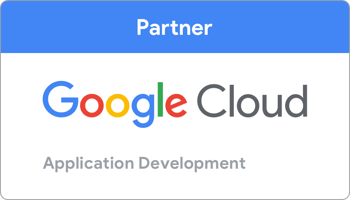 The Google Cloud Partner Specialization Program is designed to provide Google Cloud customers with qualified partners that have demonstrated technical proficiency and proven success in specialized solution and service areas. A Premier Google Cloud Partner is awarded the specialization following a rigorous assessment, having demonstrated successful implementation of projects on Google Cloud and customer success in their areas of expertise. Maintaining this distinction depends on two main criteria: an internally certified quota of G Suite and GCP experts, and a continued evaluation of the partner's work.

With over a decade of experience as a premier partner and trusted member of the Google Cloud Partner Program, Revevol's expertise is challenged and renewed year in and year out as we accompany customers in their digital transformation journey, and in adoption of Google Cloud technologies.
Developing applications with high business impact

Thanks to GCP's managed services, building and deploying business applications has never been easier. Our certified cloud architects and IT experts design and build applications adapted to your business needs. Our teams also offer training and support throughout the project, with a strategy to best leverage these cloud services for optimal business impact.

The advanced logistics flow solution SELFY (the Solution to improve the Efficiency of Logistics Flows on Yard) is a prime example of how Revevol leveraged GCP to design a scalable, cutting-edge solution for the advanced materials and specialty chemicals group Solvay, headquartered in Belgium. The solution involves creating complex workflows on Google Cloud Platform to improve the efficiency of logistics controls for truck deliveries on-site. Fully integrated with on-premise SAP, the solution retrieves data directly from factory equipment on site, and communicates with AODocs.

The solution demanded handling complex data processes at scale, while maintaining ease of use, so tools like Cloud Functions, Cloud Data Flow, and BigQuery were essential for simplifying and streamlining tasks. Google provided the tools, Revevol, the customized solution and 360 degree support: "They really took the time to understand the functionalities we were looking for. That was the key to the design of the whole solution," explained the Head of Logistics Processes at Solvay of Revevol.

To find out more about the endless architectural possibilities with GCP, discover how Revevol built a BI dashboard to track G Suite adoption using Google Cloud Platform's extensive data analytics and visualization tools.


Taking your business to new dimensions with GCP and Revevol

Revevol began its GCP journey in 2012 with Google App Engine and now has hundreds of applications running on the platform. Our experience building cloud-based products like Playengo using GCP has given us unique, cutting-edge expertise.

With a thoughtful combination of dynamic Cloud Platform capabilities, our team of experts, composed of developers, architects and data scientists, can analyse your current processes, workflows and business applications to advise on and implement the improvements that you need to allow your organization to work more efficiently. Our experts combine the right GCP services to quickly deliver a successful proof of concept and an easy-to-use, custom solution.

In increasingly competitive contexts, Revevol supports its customers in transforming their business needs by delivering customized, secure, solutions that leverage the performance of Google Cloud technologies. Choosing Google Cloud Platform with Revevol means choosing a, scalable, smart, high-performing infrastructure and tailor-made solution adapted to your business needs. Our customized GCP products can ultimately help you innovate faster and accelerate growth for your business.