People all around the world are working from home to limit the spread of COVID-19. For many, this is a new way to work, and we are faced with the challenge of how to communicate and collaborate at a distance. For those already using G Suite, now is the moment to explore all its features. With G Suite, remote working is a breeze.
Create a salon (or group chat) for your team in Hangouts Chat
When you no longer have your colleagues a few feet away, it can feel lonely, and you might miss being able to ask a question out loud and get an immediate answer. Fortunately with Hangouts Chat, you can have the same experience with teammates connected at a distance. Even if you need to step away from your computer, you can easily access the app from your telephone.
Additionally, Hangouts Chat lets you organise chat by threads. This means you can continue one conversation and not lose it in the flow of back and forth.
Pro tip: set up Drive bot to get notifications on files shared with you directly in chat.
Organize a daily meeting via Hangouts Meet


While a chat is a great way to get quick answers, maintaining a personal connection is easier when you can see and hear each other. Sometimes nuances are lost when we are relying on text messages.
Organizing a video meeting every day with the team is not only great for maintaining connection, but also useful for people to share what they are working on. It is important to avoid feeling isolated just because you're away from colleagues and touching base to share what you're doing can keep you focused. This is important when working from home with distractions you don't typically face when in the office.
You can also use the screen sharing feature so everyone can literally share the same vision. When presenting a project plan or sharing a group calendar, you can mimic the experience of explaining something to your colleague as if he/she was right beside you.
If a colleague can't attend, you can now take advantage of the recording feature, even if you don't have a G Suite enterprise account. To help people during COVID-19 conditions, G Suite is offering all clients the advanced Enterprise account features for free!
Share a to-do list via Keep


If you're used to sharing certain tasks with colleagues, create a to-do list with tasks and share it with your team. As you work through the list you can tick off items and your team members will be able to follow your progress.
If you need a more powerful solution, you can create a project plan in Google Sheets. Be sure to take advantage of the filtered views option so everyone in the team can see a different view at the same time.
Collaborate effectively with comments and suggestion mode


If you're working on the same file as colleagues and need to give feedback, take advantage of the comments feature or suggestion mode. With comments, you can mention a colleague by typing the "@" sign before their name; the person will then receive the comment directly via email and can click to go directly to the relevant part of the document. These emails are dynamic, so if you leave a series of comments, the initial email will automatically be updated rather than multiple emails being sent unnecessarily.
When tagging a colleague, you can also assign a task. This will also generate an email to inform them. All the user has to do is click the comment directly to indicate that the task has been done -- no need to send an additional email or message. This is especially useful if you don't have time to work on something immediately.
Pro tips: You can set up a Drive bot directly in chat if you would rather receive the notifications immediately in chat when a file is shared or a comment added.
You can search in Drive by "unresolved" to find any tasks assigned to you that you haven't yet treated.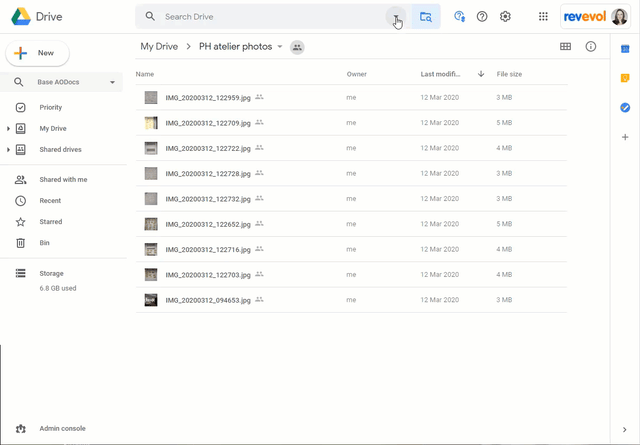 Get the apps on your telephone so you can keep connected when you need to step away from the computer


Working from home, you might need to sometimes step away from the computer or find that you adjust your working hours. This is especially true for parents now that schools are closed in many countries. To keep connected without staying glued to the laptop, download the various G Suite apps on your phone. If you have an Android phone, most already come installed. The apps are very user-friendly and fluid, you can easily join a video call or edit a file in relative comfort.
Use Google Groups and Shared Drives


If you don't already have a Shared Drive and a Google Group for your team, now is the time to create them. A Google Group gives you an email address for the team so you can keep it in copy and be sure everyone is always in the loop. It also makes sharing with the team easy as you can share with the group instead of typing each name or email address individually.
A Shared Drive keeps all your files in the same place so no one wastes time looking for things. If you've previously kept files in your personal Drive or on your laptop and shared multiple versions, know that you have nothing to lose by starting to work on one shared file. Google has an excellent version history feature accessible in the File menu so you can easily restore previous versions. Also in Google Sheets you can find out the history by cell, so if there is a typo somewhere, you have accountability and can easily fix it.


If you take advantage of all these features, your experience working from home will be smooth and painless. Maybe you'll even want to work from home occasionally even after businesses resume normal activity!
For more tips on how to succeed while working from home, check out this article.
Good luck and stay safe!